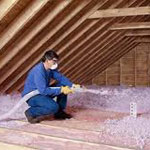 Insulation creates a thermal barrier that helps your home hold onto the treated air coming from your HVAC system. Heat is always trying to move from warmer areas to cooler ones, which means that it is infiltrating your home in the summer and escaping in the winter. This effect of thermal energy cannot be stopped entirely, but with sufficient insulation, it can be dramatically slowed. The end result is that your HVAC system runs less often, reducing what is usually the single largest energy expense in the home.
Signs you need additional insulation:
Hot or Cold Rooms
High Power Bills
Home Over 10 Years Old
Frequently Running A/C or Heating System
National code requires a minimum of R-30 attic insulation. Our technicians can test your current insulation to determine whether your home meets the national code and add insulation to meet code requirements.
Fiber Glass Blown-In Insulation
Fiber Glass Blown-In Insulation is used in both residential and commercial construction as a thermal and acoustical insulation. It is designed for pneumatic installation in pen attic areas and for retrofitting enclosed sidewall and floor/ceiling construction assemblies.
The product is noncombustible, noncorrosive and odor free. In addition, it contains no chemicals to cause mildew and fungus growth, contains no formaldehyde, provides no sustenance for vermin, contains no asbestos, won't rot or decay and won't absorb moisture.
Tax Credits
In addition, adding insulation to your home or business may qualify you for energy tax credits. To learn more, call us to complete an assessment of your home or business.
Services Include:
Adding to Your Existing Insulation
Remove OLD Insulation & Re-Install New R30 (R&R)
Radiant Barrier/Foil Insulation
New Home Insulation